If you are looking to deepen your understanding of embodiment and learn more about what being embodied means, these books are a great place to start. We have selected books that are easy to read (or listen to, many of them are available as audiobooks too) and are not full of specific embodiment terms, perfect if you are considering studying with Open Floor and taking one of our Trainings. This list is particularly orientated to the fields of psychology and neuroscience, you can subscribe to receive updates when we publish more books about embodiment from other fields of study. 
Top 10 Books on Embodiment
Blind Spot: Hidden Biases of Good People, by Mahzarin R. Baniji, Anthony G. Greenwald
Do you know what your blind spots are? We all have them, even if we don't want to. In this book, Banaji and Greenwald explore the hidden biases we all have from a lifetime of exposure to cultural attitudes about age, gender, race, ethnicity, religion, social class, sexuality, disability status, and nationality. An embodiment must-read!
The Expressive Body in Life, Art, and Therapy

: 

Working with Movement, Metaphor and Meaning, by Daria Halprin
Daria Halprin outlines a unique approach to healing through movement and art. She considers the body as the container of our entire life experience and movement as a language that can express and reveal our greatest challenges and potentials. The book also contains case studies and exercises for anyone interested in an embodied approach to creativity. 
Falling Upward: A Spirituality for the Two Halves of Life, by Richard Rorh
Many of us think about getting older as being all about dealing with health issues and approaching the end of life. In this important book, Rorh argues that those who have fallen, failed, or 'gone down' are the only ones who understand 'up'. A great guide for understanding and developing spiritual maturity.
Hardwiring Happiness: The New Brain Science of Contentment, Calm and Confidence, by Rick Hanson
Scientific research has shown that what we think and how we feel changes the brain. In this book, Rick Hanson shows us how to take the simple, positive experiences of our daily lives and transform them into neural structures that support lasting health, contentment, love, and inner peace.
Imagine: How Creativity Works, by Jonah Leher
How do we measure creativity? In this book, Leher dives into the human mind to understand the anatomy of imagination and study how cognitive science is connected to creativity. Creativity is not a 'gift' for a lucky few. Instead, it is a variety of distinct thought processes that everyone can learn to use more effectively. 
Many Minds, One Self: Evidence for a Radical Shift in Paradigm, by Bob Falconer and Dick Schwartz
This book discusses how the way we think about our mind has shifted over the centuries in philosophy, psychology and neuroscience. Schwartz and Falconer reveal that our minds contain many parts as well as an undamaged healing essence—the Self, present in every spiritual and shamanic tradition.
The Body Keeps the Score: Brain, Mind, and Body in the Healing of
Trauma, by Bessel van der Kolk MD
In this book van der Kolk, one of the world's experts on traumatic stress, offers a new paradigm for treatment, moving away from standard talking and drug therapies towards an alternative approach that heals mind, brain and body. Important reading for anyone interested in an embodied approach to healing trauma.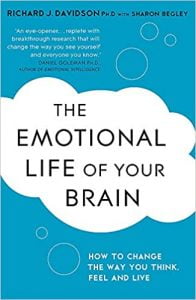 The Emotional Life of Your Brain: How Its Unique Patterns Affect the Way You Think, Feel, and Live – and How You Can Change Them, by Sharon Begley and Richard Davidson
This book will help you understand your emotional responses and discover your unique 'emotional style'. Begley and neuroscientist Davidson, offer practical  solutions to retrain our brains, through mindfulness and meditation, to alter lifelong patterns of destructive or unhelpful behavior.
The Gifts of Imperfection: Let Go Of Who You Think You Are Supposed To Be and Embrace Who You Are, by Brene Brown
This a powerful and inspiring book that explores how to cultivate the courage, compassion, and connection to embrace your imperfections and recognize that you are enough. Brene Brown, PhD, a leading expert on shame, authenticity and belonging, explores the psychology of releasing the definitions of an "imperfect" life and embracing living authentically.
The Myth of Sanity: Divided Consciousness and the Promise of Awareness, by Martha Stout
This groundbreaking book addresses childhood trauma, dissociation, and their impact on our adult lives. Through astonishing stories of people whose lives have been shattered by trauma and then remade, Stout shows us how to recognize these altered mental states in friends and family, even in ourselves.